Lynn's Staff Picks
Lynn is one of those renaissance people who has worked and played at many things in her life including what you may know her for around Sisters: photography and reporting for the Nugget Newspaper and playing music with the Anvil Blasters.
Her favorite books tend to be nonfiction or historical fiction — or any genre that has a heap of wonder and not many clichés in its pages. She digs authors who write with keen observation and humor and those who can bring her so far inside a story that it takes her a few days to come back to reality.
She's also worked as a graphic designer since the mid-90s, and today specializes in the file production and design of the covers and interiors of books. She definitely judges books by their covers… as well as their words.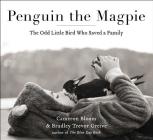 $17.60
ISBN: 9781501160356
Availability: Usually Ships in 1-5 Days
Published: Atria Books - April 4th, 2017
This is exactly the way to tell the story of two beings - a human mother and a baby bird - who each survive epic falls... and help each other heal. The photographs (Bloom, the father, is a pro photographer) of Penguin (the magpie) with the whole family are delightful, memorable and made me feel as if I was there for many precious and intimate moments. This survival story is told with vulnerability - raw yet gracefully - without getting mushy. The lessons are the big ones life can hand us, but the text has few clichés and little pity: "Penguin could not have arrived at a better time, by which I mean a more terrible time." "Penguin was a tender as a baby pea - and as subtle as a black-and-white brick."

The book ends with a remarkably frank and courageous essay by the mother in this family, about her new reality as a paraplegic. Her sage advice for other spinal-cord-injured and their family and friends, is a gift. I'd really love to meet this family.
---