Lynn's Staff Picks
Lynn is one of those renaissance people who has worked and played at many things in her life including what you may know her for around Sisters: photography and reporting for the Nugget Newspaper and playing music with the Anvil Blasters.
Her favorite books tend to be nonfiction or historical fiction — or any genre that has a heap of wonder and not many clichés in its pages. She digs authors who write with keen observation and humor and those who can bring her so far inside a story that it takes her a few days to come back to reality.
She's also worked as a graphic designer since the mid-90s, and today specializes in the file production and design of the covers and interiors of books. She definitely judges books by their covers… as well as their words.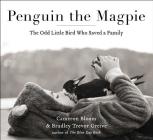 $17.60
ISBN: 9781501160356
Availability: On Our Shelves Now
Published: Atria Books - April 4th, 2017
This is exactly the way to tell the story of two beings - a human mother and a baby bird - who each survive epic falls... and help each other heal. The photographs (Bloom, the father, is a pro photographer) of Penguin (the magpie) with the whole family are delightful, memorable and made me feel as if I was there for many precious and intimate moments. This survival story is told with vulnerability - raw yet gracefully - without getting mushy. The lessons are the big ones life can hand us, but the text has few clichés and little pity: "Penguin could not have arrived at a better time, by which I mean a more terrible time." "Penguin was a tender as a baby pea - and as subtle as a black-and-white brick."

The book ends with a remarkably frank and courageous essay by the mother in this family, about her new reality as a paraplegic. Her sage advice for other spinal-cord-injured and their family and friends, is a gift. I'd really love to meet this family.
---
$20.00
SKU: 9781532320408
These stories are about the men integral to the battles of the Era of Conquest; some names may be familiar, but many will not - and you won't forget them after reading this book: Cornelius doesn't waste words and some phrases will smack you in the eyeballs.I tend to steer clear of spending my attention of war and violence, but these stories are more about the people and forces behind the battles. It's about what we humans fight over, and sheds light on the current state of world politics. And the things these guys went through - most of us are pantywaists in comparison. Jim Cornelius is a prolific and engaging writer with an exceptional memory that gives him access to layers and layers of context. He presents the facts, the dates, the locations, the actions - but what makes this a fabulous read are his insights into circumstances and motivations. A great collection of True Tales for the history buff.
---

$22.09
ISBN: 9780977931439
Availability: On Our Shelves Now
Published: Headwaterspublishing.com - July 22nd, 2017
The time I spend out in nature with my father holds some of my fondest memories and yet I continue to be jealous of how my half-siblings grew up outdoors, home-schooled, and traveling the world. Why: because this upbringing has helped them become more intentional in their work, connected to and understanding of family and friends in a deeper way, aware and active beyond their daily lives, and of course, at-ease traveling.When my dad and second wife, Trish, started a family, they were determined to keep the activities that brought their own lives joy and meaning. This book has some of the stories of their river, trail and bicycling adventures that have introduced them and their four kids to many places, other cultures, and brought lasting friendships worldwide. And my dad shares his own whys and hows of raising young kids with adventure - heck, they spent three months bicycling through New Zealand with two toddlers, one still in diapers! And if they can do that, just think of what you can do with your kids - now!
---