Ruth Ann's Picks
Ruth Ann

Ruth Ann finds her 25-years as a public librarian good preparation for joining the team at Paulina Springs Books. She loves nature, animals, photography, cooking, downhill skiing and travel. Some of her favorite destinations are Alaska and Scotland. Ruth Ann learned to read at age five and hasn't stopped since, devouring mysteries, science fiction, fantasy, adventure, thrillers, westerns, romances, blended-genre books, cookbooks and humor. She is currently owned by four housecats.

$19.99
ISBN: 9781250077325
Availability: On Our Shelves Now
Published: Thomas Dunne Books - August 16th, 2016
OK, animal lovers, have I got a great read for you. While reading this book I found myself laughing out loud (literally) the whole time I was reading it. I loved it so much I will be sharing with friends and family. It brings to mind a totally cheeky [language warning] James Herriot-esque tale of the experiences of Cox while relocating to an historic cottage in the English countryside, with his four very unique, mischievous, and opinionated cats. Ralph, Shipley, Roscoe (a female) and The Bear (the Sad Cat of the title) are all amazingly entertaining individuals. Mr. Cox's father, who always speaks in a shout (indicated by all capital letters), is yet another irreverent and comical addition to the tale. Included are tales of assorted furry strays and visitors, and of Cox's parents' cat with its neighbor feline nemeses. An altogether charming story, and definitely a hoot. Give it a try!
---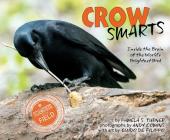 $15.19
ISBN: 9780544416192
Availability: On Our Shelves Now
Published: Houghton Mifflin - August 2nd, 2016
Crow Smarts is such a pleasure to read! I've long known the corvids (crows, ravens, jays) are smart. I've seen PBS shows where crows use creativity and intelligence to solve problems. Here at the bookstore we have several excellent books on the subject, written for adults. This is the first one I've seen aimed at middle-grade kids. And it is fabulous! Turner makes the subject accessible and instructive, never condescending when explaining scientific or technical terms. She makes it personal by starting out introducing us to two New Caledonian crows; a partly grown juvenile she named Little Feather, and one of its parents, who came to be known as Lefty. She talks about other animals who display "intelligence"; describes the unique environment of the islands making up New Caledonia; shows the crows using and even making tools to use to access food. She then moves from observation of the wild birds to investigate some scientific studies of captive crows (it's ok; they get released back into the wild where they came from). All the while she keeps returning to the antics of Lefty and Little Feather, showing how young crows observe and learn from adults. An extra bonus is the humor. She constantly throws out dry witticisms that kept me literally laughing out loud and reading sections to a colleague. It's that funny while still being a serious piece of nonfiction. It will definitely appeal to school kids, but also to adults. I learned much from it and will certainly follow up on some of the books and websites she suggests. Very highly recommended.
---